Mrs Wendy Martin, BSc (Hons), PGCE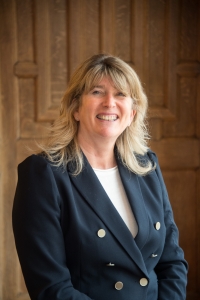 Mrs Martin joined us from Trinity School in Devon where she was Deputy Head, responsible for all academic and pastoral matters, safeguarding, boarding, and the day-to­day running of the school. Mrs Martin obtained a degree in Mathematics and Natural Science from the University of Kent and then a PGCE in Mathematics and Physics from the same institution. She is Bedstone's third Head to count Physics as one of her specialisms, continuing a tradition spanning 28 years.  She holds a post graduate qualification in 'Leadership and Innovation' from the University of Warwick and has worked in both the Independent and Maintained education sectors. She has spent the last 25 years in Independent, Co-Educational Day and Boarding Schools.
Mrs Martin is familiar with our beautiful county having lived in Oswestry when she started her teaching career at a comprehensive school in Powys. Whilst there she became Head of Maths followed by Head of Sixth Form. She then moved to the New Forest where she joined an independent, co-educational boarding school and was appointed Head of House, quickly followed by Head of Boarding and Senior teacher. She was closely involved in a school merger and was appointed Director of Studies in the new school.
During this time Mrs Martin became a school inspector for the Independent Schools Inspectorate (ISI) and she has now been inspecting schools for over 15 years. In 2013 she moved to Devon to become the Academic Deputy Head at Trinity School and two years ago was appointed the Senior Deputy Head.
Mrs Martin is married to Richard, a fellow teacher who has been a Director of Sport and now teaches maths and PE as well as being a Housemaster at a Grammar school in Devon.  Mrs Martin has two children, and two step-children. The family have two dogs who are very happy in our rural surrounds.
With not much time for hobbies Mrs Martin tries to do half an hour of aerobic exercise each morning, usually running, cycling or ergo-rowing. When possible Mrs Martin and her husband like nothing more than entertaining friends or family with a table full of good food and the odd glass of wine.