Mr Dyball clocks up 60 years in the classroom
Could Mr Dyball be the longest-serving teacher in Shropshire? Staff and governors celebrated Arthur Dyball's 60 years of service to the school during speech day on Saturday 7 July. Mr Dyball, now a lay chaplain at the college was delighted when the school's Reading Room was named in his honour.
Mr Dyball began working at Bedstone aged 23 in 1958, teaching Latin, history and religious education. The honour is particularly poignant as the Reading Room was once his teaching room.
Bedstone has grown in size, become co-educational in 1971 and welcomed students from over 40 different countries. Mr Dyball has been at the college through it all. His passion for sport and cricket in particular are well known but his most enduring contribution will always be his kindness. Mr Dyball knows every pupil that has passed through Bedstone's doors, remembering them and their talents at school.
Mr Dyball said: "I came in September 1958 as head of history fresh from college, knowing everything, and I've learnt something new every day since! I came for a job and found a home and a family. All the staff had the evening meal together in the staff dining room. You weren't swapping bits of paper and email. Things were more casual and you could get more information informally."
Headmaster, Mr Gajadharsingh said: "Arthur has been a fixture at Bedstone for some 60 years. He started his career in an era in which being a teacher was far more than a job; it was a way of life. His focus was then, and remains now, on preparing our youngsters for life beyond the classroom by offering them the widest range of opportunities in which they can build character and confidence. He has been central to Bedstone maintaining its all inclusive ethos; an ethos which we have guarded jealously from the foundation of the school in 1948 to the current day. There are few teachers who can match his enthusiasm for his work, even at 83 years young. Arthur holds a very special place in our hearts and in the hearts of the countless boys and girls who have been lucky enough to have been taught by him. He will be sorely missed when he retires, but he will always be a part of this place."
Mr Dyball will remain in service as lay chaplain of the school until the end of the year. He has presided over the school's Remembrance Day services since 1990. He will deliver the service this year on the 100th anniversary of the end of World War One.
Speech day this year was a fantastic occasion, we welcomed Old Bedstonian Anna Bidgood back to talk about her adventures since leaving Bedstone. It was an insightful speech, giving our students lots to think about as they contemplate their own futures beyond Bedstone.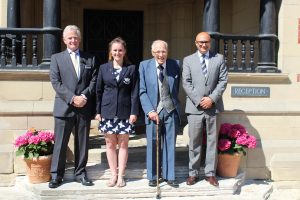 Gp. Capt J Fynes, Miss Bidgood, Mr Dyball, Mr Gajadharsingh