Bedstone College is very proud to be hosting a special cardiac screening event for its students on 27 September.
Students aged 14 plus who are studying at the college have been invited to take part in the screening for free thanks to a generous donation from parent, Jayne Ward-Lucey who has been on a mission to raise cash for a good cause.
Mrs Ward Lucey, who has a son, Charlie at the school, has been busy fundraising the £5,000 needed to provide the screening for free to 100 students.
The screening usually costs £50 per student but this is an opportunity for parents to have their child screened for any potential cardiac problems for free.
Mrs Ward-Lucey said she has been inspired by Sue Dewhirst, who has raises funds tirelessly for C-R-Y (Cardiac Risk in the Young) after her son, Matthew Dewhirst died from what is termed SADs, Sudden Arrhythmic Death Syndrome.
Mrs Ward Lucey's fundraising has been boosted by Reconomy (www.reconomy.com), the UK's leading outsourced waste management company in Telford, which donated a significant amount raised from a staff raffle during the firm's recent summer family day.
Mrs Ward Lucey said: "If I can get 100 students to come and be tested then we will know that they are safe. I am just a mum thinking that we have got a remote school where they are quite a distance from the hospital so it would be really good to provide this testing. The chances of finding anything is very rare but if there is a problem identified through this then the child can receive potentially life-saving treatment.
"Heart disease and heart attacks are always associated with old people and this is the whole point of CRY. Our young people should not be suffering with undiagnosed heart problems."
Any Bedstone students who would like to make an appointment should email surgery.team@bedstone.org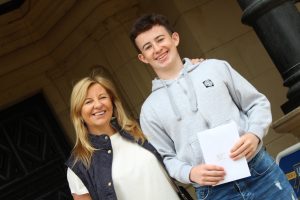 Pictured is Mrs Ward Lucey with her son, Charlie on GCSE results day