Junior School have said a very fond farewell to year 6 as they move up to the Senior School. Happily they have already spent a lot of time with the Senior School, joining them for sporting fixtures, science and modern languages. As we reflect on their time in Junior School we can't help but feel very proud of all they have achieved and sure that they are ready for their next big adventure.
The students have played sport with Senior teams, holding their ground amongst much older competitors. This is particularly true of the Girls Cricket Team which launched last summer and has gone on to win many of their games, they have also enjoyed watching an international cricket match, setting their standards very high!
Ashleigh and Amelia have had fantastic sporting success, having got through and competed in the ISA Athletics National finals last week.
As well as academic teaching, during their time in Junior School the children have attended 'Crucial Crew' where they learn skills for life and are armed with knowledge to help support them ahead of their teenage years. They also participated in Bikeability, improving on the awards achieved last year. The annual Harvest Festival Assembly and Christmas play, host leading parts for Year 6; providing them with the opportunity to practice their acting skills to an audience, before embarking on the Performing Arts of the Senior School.
Clubs are a huge part of life at Bedstone and our year 6's have enjoyed participating in Spanish, STEM club, coding, choir, art and crafts, Frizbee and Mandarin. We are sure that they will go on to great things and happily we will still be able to watch them grow and develop from across the school. Well done year 6!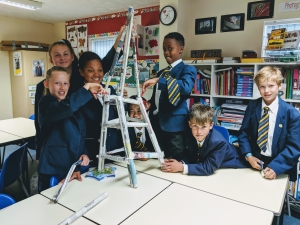 Year 6 building an Eiffel Tower in their French lesson.